Machine Guarding and Barricades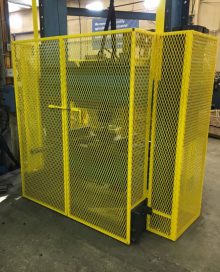 Requirement to have safeguards in place to prevent workers from coming in contact with machinery and services that may pose a hazard such as:
 – moving parts of machines
 – sharp, cutting, grinding surfaces of pinch points
 – surfaces of a temperature that would cause burns, blisters or freezing
 – electrically energized equipment or components
 – debris , material or objects thrown from a machine
 – material being fed into or removed from a machine
 – to restrict access to area where there may be exposure to chemical or physical agents.
resources
Legislation

Manitoba Worksafe Guideline on Machine Guarding

Why Do Safety Locks and Emergency Stops Fail?

How often should interlocks be checked?

Checklist for Machine Guarding

Type of Guards

Risk Factors for Machine Guarding

Hierarchy of Machine Guarding Controls

Employee Training

Machine Guard Removed Labels

Common situations that cause injury

Allowable Size of Openings

Tamper or Defeat Resistance Guards

Case Study - Pallet Nailer

Case Study

Looking for an easier way to manage your machine safety program?