Emergency Washing Stations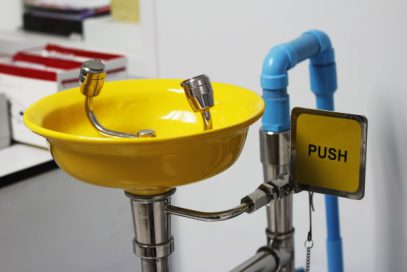 Accidental splashes or spills can result in eye contact with chemicals. Certain operations and chemicals require an eyewash station or even an emergency shower  station to be close by in case of an incident.
Information in this module will help you to:
Identify processes that require an eyewash station or emergency shower

Where to locate this safety equipment; and


Identify what specifications they should meet.
resources
Legislation

Worksafe Bulletin

Eye injury Statistics

What percent of Eyewash Stations Do Not Meet the Standards?

Specifications for Eyewash Stations

Specification for Emergency Showers

Specifications for Drench Hose

Temperature of Water provided by Emergency Washing Equipment

Operations That Typically Require Eyewash Stations

Criteria for needing an Eyewash Station

Where to Locate Eyewash Stations

How to Properly use an Eyewash Station

How long should eyes be flushed?

Inspection Checklist and Sign Off Log

Eyewash stations in Freezing Conditions

Flow Alarms

Eyewash bottles

Portable Eyewash Stations

Worker Education

Most Common Violations for Emergency Washing Stations

Real Life Example

How to Test Shower Flowrate

Comparison of Flowrates

Other factors to consider