Eating in Prohibited Areas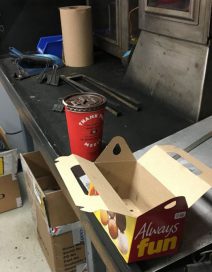 Some workplaces have materials that can pose a hazard by ingestion. These can include manganese, lead, hexavalent chromium and others. Materials that get on your hands often wind up being ingested. This can contribute to overall exposure the same as breathing in the material.
Steps should be taken ensure that workers do not eat or drink on the shop floor and that the lunchroom is clean. General housekeeping of work surfaces can also make a big difference. This module provides information and standards for testing lunch rooms for possible ingestion hazards.
resources
Legislation

Background Information

Typical Ingestion Hazards

Activities that Lead to Exposure through Ingestion

Housekeeping in Work Areas

Best Practices for Eating Areas

Proper Handwashing Technique

How to Test for Surface Contamination

Surface Contamination Standards

Effectivness of Controlling Ingestion through Education

Real Life Case Study

Ventilation Requirements for Lunchrooms

Need help with a possible ingestion issue?