Disposable Coveralls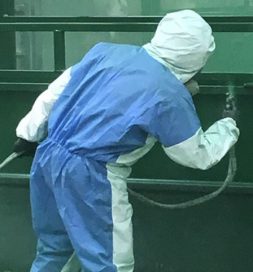 This is a supplementary information topic. This section is to provide reference material on the topic. As this is not a specific topic in the legislation, this section is not scored and will not add to or appear on your dashboard.
Disposable coveralls can be an important part of PPE. For really dirty jobs, where there is spraying or splashing, and leaning against contaminated surfaces, coveralls may be needed to prevent skin contact and protect personal clothing. Just like gloves, you have to get the right coveralls for the products that you are using.
resources
Different Materials of Disposable Coveralls

Different Types of Seams in Coveralls

Quick Reference Guide to Selecting Disposable Coveralls

More Thorough Coverall Selection Options

Field Testing Coveralls with your Specific Products

Assessment by Simple Observation

Breathability of Disposable Coveralls

Understanding Manufacturer's Product Codes

Getting the Right Size of Coveralls

Is there an Alternative to Disposable Coveralls?