Asbestos Building Audits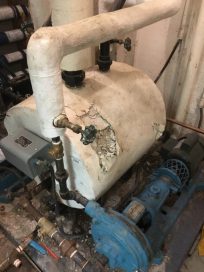 Some older buildings may have asbestos-containing material in them in the form of pipe insulation, plaster, spray on insulation, floor tiles, ceiling tiles, etc. Workplaces are required to conduct an inspection of their workplace to determine if/where asbestos is present in their building and prepare a written inventory. Any asbestos-containing material should be inspected at least annually to ensure it stays in good condition. This section does not address asbestos that may be present in objects or materials brought into the building (e.g., gaskets).
resources
Need Help with your Asbestos Program?

Legislation

Worksafe Manitoba Bulletin - Managing Asbestos

Asbestos Operations Maintenance Guideline

Types of ACM found in Buildings

Elements of an Asbestos Control Plan

Necessary Content for Worker Training

Asbestos Labeling

how many samples should I take?

Periodic Background Air Sampling for Asbestos

Classification of Damage

Asbestos Risk Calculator

Asbestos in Drywall Joint Compound Study

No risk from Intact Asbestos-Containing Material

Case Study - Boiler Room Inspection

Hazard Assessment of Asbestos in Gaskets

Need an Asbestos Audit or Help with an Annual Inspection?