Asbestos Building Audits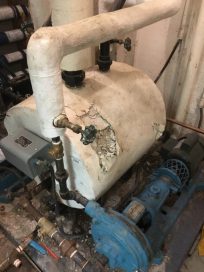 Some older buildings may have asbestos-containing material in them in the form of pipe insulation, plaster, spray on insulation, floor tiles, ceiling tiles, etc. Workplaces are required to conduct an inspection of their workplace to determine if/where asbestos is present in their building and prepare a written inventory. Any asbestos-containing material should be inspected at least annually to ensure it stays in good condition. This section does not address asbestos that may be present in objects or materials brought into the building (e.g., gaskets).
Does you workplace have asbestos-containing material?
Has an asbestos control plan been developed and implemented to prevent asbestos material becoming airborne?

?

Is all suspected ACM treated as if it contains asbestos until it is tested?

Has an audit of the building been performed by a person who is competent in identifying materials that may contain asbestos?

?

Has an inventory of all ACM in the workplace been prepared?

Does the inventory identify the location of all ACM?

Does the inventory identify the condition of all ACM?

?

Is the inventory updated as ACM is added or removed from the workplace?

Is all of the ACM in the workplace inspected at least once a year?

Is ACM inspected more frequently based on the amount or significance of damage?

?

Are there control plans in place for areas of frequent or severe damage? For example shielding or removal of ACM?

Are the inventory and inspection records available for reference by workers?

Are the inventory and any inspection records kept for a minimum of 30 years?

Is all ACM identified by signs, labels or other means?

?

Is there a long term plan for the eventual removal of ACM?

Are air samples taken every 3 years as confirmation that presence of asbestos is not resulting in airborne asbestos?

?

Are materials that potentially contain asbestos but have been confirmed not to contain asbestos labeled as asbestos-free?

Does the Health and Safety Committee review the asbestos inspection report and program annually?

Are workers consulted about the asbestos policy as part an annual review?

Is ACM labelled in a clear way that is understandable by staff and contractors?

?
Compliance with minimum criteria?
No